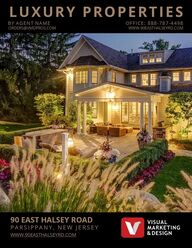 Return to flip book view
4 Page Magazine - Black
Page 1
90 EAST HALSEY ROADP A R S I P P A N Y , N E W J E R S E YWWW.90EASTHALSEYRD.COMLUXURY PROPERTIESOFFICE: 888-787-4498BY AGENT NAME ORDERS@VMDPROS.COM WWW.90EASTHALSEYRD.COM
Page 2
Luxury living at every turn, as soaring ceilings, tall windows and a designer's palette highlight rooms designed for entertaining on a grand scale. Nothing has been overlooked, where this incredible attention to detail brings perfection!
Page 3
Comfort abounds as well designed bedrooms and baths supply personal space that rivals even a 5-star hotel.Through attention to detail, perfection follows
Page 4
HIGHLIGHTSwww.90EastHalseyRd.com• 8,000 sq.  of luxury living across threebeautifully finished levels• Designer kitchen includes custom cabinetswith under-cabinet lighting, solid surfacecounters, a massive mahogany center islandwith concrete counters, top of the line Vikingappliances, custom pendant lights and anadjoining breakfast area• Luxury master suite with custom architecturaldetailing, an adjoining sitting room withgas fireplace and designer master bathwith limestone tiling, frosted glass showerenclosure and Air Bubble spa tub• 4-zone forced air heating• 4-zone central air conditioning• Thermal windows and doors• Multi-level patios and terraces• Outdoor kitchen with Viking grill, refrigeratorand dishwasher• Heated in-ground Gunite pool and spa• Extensive landscape lighting• Outdoor speakers• State-of-the-art security system with camerasand motion lighting• Built: 2010• Lot Size: 2 AcresDN UPDNWIC15.0 X 15.0MASTER BEDROOMLNDRCLFOYER21.0 X 13.10EAT INKITCHEN20.10 X 16.0LIVING ROOM17.0 X 13.10DINING ROOM14.0 X 12.0SUN ROOMFAMILY ROOM14.9 X 13.10IN LAW SUITE/BEDROOM 213.4 X 13.10WICPATIOPATIOFIRST FLOORDNSECOND FLOORATTICCLCEDAR WIC13.5 X 14.211.3 X 13.0BEDROOM 4BEDROOM 3OPEN TO FOYERATTICCRAWLCRAWLCRAWLOFFICE/BEDROOM 517.7 X 11.3STORAGEUPWHGAME ROOM26.0 X 14.6RECREATION ROOM38.4 X 15.42 CAR GARAGESTORAGESAUNAWORKSHOPSITTINGROOM10.4 X 13.4UTILITY /STORAGE12.0 X 13.7STSTMUDROOMBARLOWER LEVELSHOWERReal estate agentReal estate associate/BRokeRcell: 888-787-4498 Orders@vmdpRos.comwww.vmdpRos.comCopyright© 2003 Visual Marketing & Design. All rights reserved. Information contained in this brochure is deemed reliable but not guaranteed and should be independently veried by the buyer(s). Real Estate Brokers and agents acting on their behalf for creating this brochure are not responsible for typographical errors, misprints or misrepresentations and are therefore held totally harmless.