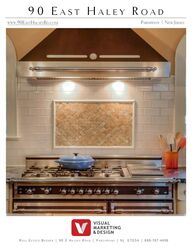 Return to flip book view
8 Page Magazine - White
Page 1
9 0 E a s t H a l E y R o a dPaRsiPPany | nEw JERsEywww.90EastHalsEyRd.comR e a l e s t a t e B R o k e R | 9 0 e H a l s e y R o a d | P a R s i P P a n y | n J 0 7 0 5 4 | 888-787-4498
Page 2
An exquisite home by any measure, this incredible custom colonial is the very essence of a country manor estate. Resting on over 3 acres of gorgeous grounds, another three acres of woods lines the perimeter. Assuring this tranquil setting continues into the future, the adjoining lot is not buildable. While the setting is wonderfully private and peaceful, this quiet cul-de-sac street is located only minutes from shopping, recreation, top rated schools and NYC transportation.Once inside you will appreciate high end nishes and the attention to detail that continues throughout. Finished beautifully across three levels, every single space in this amazing home is designed to impress.On the main level, entertaining on the highest order is a given. Generous rooms are arranged in an effortless ow, as sunlight pours in through large windows. There's elegance and grace in the living room and formal dining room, while the library and family room are up to the challenge of whatever the day brings. The kitchen is an artful blend of beauty and function, offering superior craftsmanship and professional grade appliances. Real estate agentReal estate associate/BRokeRcell: 888-787-4498 Orders@vmdpRos.comwww.vmdpRos.com
Page 3
ElEGancE and GRacEThe front door with leaded glass inset opens to a spacious foyer where limestone tiles are enhanced by subtle brass insets.The front picture window with built-in window seat welcomes sunlight and pleasant views into the living room. Deep crown moldings, a polished hardwood oor and an furniture quality built-in cabinet and shelves are featured. There are two entries to the family room and large side windows.
Page 4
In this new designer kitchen, even a gourmet cook's skills are elevated. Custom Woodmode cabinets with a cherry nish offer substantial storage space. Honed granite counters give way to a tile backsplash, while the center island brings even more storage and workspace. Recessed and custom pendant lighting illuminate the work areas, and there is a reverse osmosis water purication system.
Page 5
RElaXEd liVinGStep outside where the bluestone patio offers wonderful space for relaxation. A stone sitting wall surrounds the raised hot tub and the bluestone walkways continue across the back of the house. Above the patio, the mahogany deck includes built-in bench seating, water, plumbing and a gas line perfect for grilling.
Page 6
RESTFUL SLEEPA luxurious escape worthy of an upscale hotel suite, the master suite addresses all your needs. The huge bedroom with its volume ceiling and large windows provides a wonderful sense of space. There is a two-sided gas replace shared with the adjoining master sitting room. Immerse yourself in luxury in the master bath featuring a tile oor, walk-in shower with frameless glass enclosure and pebble oor, a rectangular soaking tub, furniture quality vanity with two sinks, a separate privy room and a soaring ceiling with 2 two skylights.
Page 7
Three additional bedrooms and two more full baths complete this second level. The fourth bedroom enjoys the benet of a full en suite bath with tile shower and pedestal sink. The remaining two bedrooms are aptly served by the hall bath featuring a double vanity with two sinks, linen closet and tile shower/tub.
Page 8
and FinallyUPDNDNUPUPFIRST FLOOR13' x 13'BREAKFASTROOM18' x 25'KITCHEN20' x 24'FAMILY ROOMWIC10' x 11'WIC8' x 9'WIC16' x 17'M. BATH16' x 18'MASTER BEDROOM19' x 16'MASTER SITTING ROOM21' x 24'LIVING ROOMGALLERY15' x 20'LIBRARYCLCL18' x 20'FOYER16' x 20'DINING ROOM17' x 14'GUEST ROOMPANTRYCL32' x 25'3 CAR GARAGEPORTECOCHERELAUNDRYCLCOVERED TERRACEDNDNWICSECOND FLOORROOF TERRACE19' x 15'BEDROOM 3WICWIC15' x 20'BEDROOM 4OPEN TO BELOW15' x 14'BEDROOM 5CLCLOPEN TO BELOW13' x 13'SITTING ROOM18' x 19'BEDROOM 6CLWICUPUPUTILITY /STORAGEBILLIARDS ROOM15' x 19'6"LOWER FOYER18' x 19'6"BEDROOM 715' x 16'WICSITTING ROOM16' x 18'RECREATION ROOM38' x 28'EXERCISE ROOM20' x 24'CEDARCLOSETPLAY ROOM15' x 34'UTILITY / STORAGE18' x 13'LOWER LEVELCopyright© 2003 Visual Marketing & Design. All rights reserved. Information contained in this brochure is deemed reliable but not guaranteed and should be independently veried by the buyer(s). Real Estate Brokers and agents acting on their behalf for creating this brochure are not responsible for typographical errors, misprints or misrepresentations and are therefore held totally harmless.