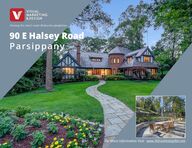 Return to flip book view
8 Page Minimalist
Page 1
Among the area's most distinctive properties90 E Halsey RoadParsippanyFor More Information Visit: www.90EastHalseyRd.com
Page 2
Page 3
The open concept oor plan showcases generous rooms enhanced by high-end nishes. Nothing has been overlooked as this luxury home is equally suited to high style entertaining and comfortable daily living.
Page 4
ENTERTAIN WITH CONFIDENCE
Page 5
Page 6
12 Rooms with 5 Bedrooms4 Full & 1 Half Baths~Grand Tudor EstateBuilt: 1934Renovated: 2018~Lot Size: 1.25 AcresPrestigious The Hill section
Page 7
Situated in the Madison's highly desirable Hill section, this ne home sits on a beautifully landscaped grounds featuring tall trees, mature shrubbery and lush lawns. Architecturally distinctive, this is a home positioned among some of Madison's most distinguished properties.
Page 8
UPDNDNUPUPFIRST FLOOR13' x 13'BREAKFASTROOM18' x 25'KITCHEN20' x 24'FAMILY ROOMWIC10' x 11'WIC8' x 9'WIC16' x 17'M. BATH16' x 18'MASTER BEDROOM19' x 16'MASTER SITTING ROOM21' x 24'LIVING ROOMGALLERY15' x 20'LIBRARYCLCL18' x 20'FOYER16' x 20'DINING ROOM17' x 14'GUEST ROOMPANTRYCL32' x 25'3 CAR GARAGEPORTECOCHERELAUNDRYCLCOVERED TERRACEDNDNWICSECOND FLOORROOF TERRACE19' x 15'BEDROOM 3WICWIC15' x 20'BEDROOM 4OPEN TO BELOW15' x 14'BEDROOM 5CLCLOPEN TO BELOW13' x 13'SITTING ROOM18' x 19'BEDROOM 6CLWICUPUPUTILITY /STORAGEBILLIARDS ROOM15' x 19'6"LOWER FOYER18' x 19'6"BEDROOM 715' x 16'WICSITTING ROOM16' x 18'RECREATION ROOM38' x 28'EXERCISE ROOM20' x 24'CEDARCLOSETPLAY ROOM15' x 34'UTILITY / STORAGE18' x 13'LOWER LEVELCopyright© 2003 Visual Marketing & Design. All rights reserved. Information contained in this brochure is deemed reliable but not guaranteed and should be independently veried by the buyer(s). Real Estate Brokers and agents acting on their behalf for creating this brochure are not responsible for typographical errors, misprints or misrepresentations and are therefore held totally harmless.Real estate agentReal estate associate/BRokeRcell: 888-787-4498 Orders@vmdpRos.comwww.vmdpRos.com